Nuclear power plants are legally obliged to protect their employees, local populations, and the environment and to secure their processes.
Bertin Instruments offers field-proven solutions for radiation protection, process control, and environmental monitoring that meet the needs of nuclear industry players. Bertin is continuously improving its technology to handle complex systems with high standards.
Our product ranges, designed for highly demanding industrial environments, are dedicated to personal protection as well as contamination monitoring.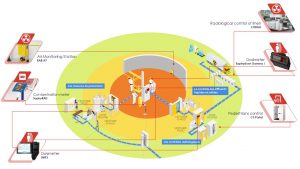 Bertin intervenes on several levels when it comes to radiation protection inside and outside nuclear facilities. Our Health Physics range includes radiation cleanliness solutions such as Saphydose Gamma i dosimeter and its multi-function reader LMF3 dedicated to workers exposed to radiation. This duo provides measurement of the gamma dose for the whole body when entering and leaving the area. The SaphyRAD multiprobe contamination meter is necessary for the detection of ionizing radiation on people and objects. Its innovative technology has been specifically designed for the nuclear industry.
The BAB A7, alpha & beta aerosol beacon, is an air monitoring station that can be installed inside the nuclear power plant for the monitoring of workstations.
The range also offers state-of-the-art solutions for civil protection, for example, the C3 pedestrian portal for radiological control. The portal assures that there's no contamination on a person leaving a nuclear site or controlled area.
To comply with current regulations, nuclear operators must ensure the absence of radioactive contamination on linen used by workers in the controlled area, after washing and before release. Bertin's CORALI system was designed to quickly control the alpha and beta contamination on working clothes.
Learn more about our solutions