Context
The number of gluten-free consumers has increased greatly in recent years and more and more food industries are trying to develop a range of gluten-free products in order to fulfil the need.
This study is aimed at evaluating the level of gluten contamination in a 2000m3 production workshop in an industrial bakery. The objective was to create a specific area in the production workshop dedicated to the production of gluten free products.
The Coriolis® Micro has been used to perform air sampling at various points in the bakery during production and also when the machines were stopped. The samples have been then analyzed by ELISA.
Materials
Air sampler: Coriolis® Micro, sterile cones
Collection liquid: 15 mL of distilled water
Protocol
This area has been emptied out of all products containing gluten before the sampling but gluten residues still remain in the air. Sampling at 300L/min for 10 and 20 min when the machines were stopped and during production time
Second sampling area (A2)
Raw materials containing gluten are continuously used in this area. Sampling at 300L/min for 10 and 20 min and at 200L/min for 5 min during production time
Liquid air samples analysed by R5-Mendez ELISA (external laboratory)
Results
Results of the air sampling performed in the first area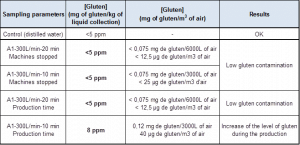 The level of gluten detected with Coriolis® Micro in this area is at the detection limit of the analysis method. An increase of the gluten concentration is observed when the sampling is performed during the production. This moderate increase has to be confirmed by further trials.
Results of the air sampling performed in the second area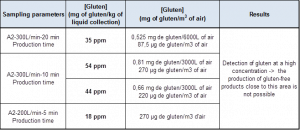 During the production, the level of gluten detected in the area is high. The installation of a gluten-free production line close to this area is not possible because of the high risk of cross contamination.